In mid-May in years past beach volleyball players in the US were already with 3-4 major tournaments under their belts and had enough stories to brag or bash for an hour. This year has been different – there are a lot of exciting tournaments and tours on the schedule but they haven't started yet.
For me personally the preseason started after April 17th as I had a pretty busy and successful Tax season with our company Kay Endow & Associates before that.
My conditioning trainer for the past 2 years – Rett Larson of the Performance Corps, is across the Pacific helping the Chinese Olympic teams. We at the Corps miss him a lot and luckily we can still use his knowledge through the DVD and videos that he posted on Youtube.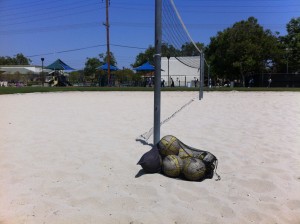 My preparation consists of gym workouts for strength, sand conditioning, stretching in the evening and in order to maintain my playing skills I was also going to the beach once-twice a week and played with the Huntington Beach crew all winter. In the past month my training shifted into a new gear – more intensive gym workouts (mainly legs, abs, back) and playing 3-4 times a week at different locations. It is a great benefit that Tomo San finds more time to practice and we are re-gaining and building our team chemistry not only in the weekends but after work hours during the week at the neat and lighted sand courts of Liberty Park in Cerritos. We are getting better with each practice and are excited to play in the upcoming tournaments!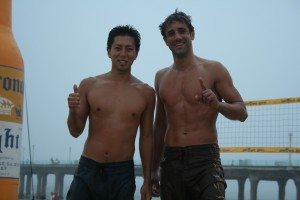 [sociable/]