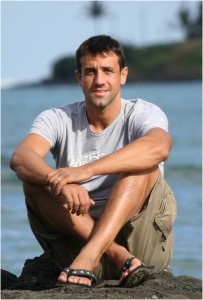 Danko was born in Varna, Bulgaria at the beautiful Black Sea coast and started playing volleyball when he was 11 years old. He played at all junior levels of the local club Cherno More. He attended the academically prestigious 1st Foreign Language HS and helped the volleyball team reach the national playoffs. After high school Danko served in the Navy and was an integral part of the team that won the Bulgarian Military Championships in 1998. At that time Danko was looking for a way to continue his volleyball career and get quality education at the same time. He learned that the United States is arguably the best place to achieve this and he approached a few colleges. He was fortunate to be offered an Athletic Scholarship at Rutgers University where he was a 4-year starter as an Opposite and Outside Hitter. Danko was selected to All-tournament teams and All-conference teams numerous times and recorded over 1,000 kills in his 4 years there. In 2003 Danko was named Rutgers' Male Athlete of the Year. In the same year for the month of February he led the NCAA in kills and was also in the top 20 in hitting percentage. Danko has also played in the Bulgarian Professional Volleyball League for 2 years where his team Cherno More BASK took 4th place in the country and 3rd place in the tournament for the Bulgarian Cup.
While growing up in Bulgaria Danko spent a lot of time at the Varna beach, which happened to be 2 minutes walking distance from his home. In the mid-1990's Beach volleyball was gaining a lot of popularity in Europe and after stumbling upon an AVP final on ESPN featuring the legends Karch Kiraly, Kent Steffes, Jose Loiola and Scott Ayakatubby, Danko was inspired. He started spending every day in the Summer playing at the beach and entered every tournament he could. In 1997 he and partner Evgeny Petkov won the U-21 International Balkan title. In 1998 he and partner Liubo Stoikov won the Bulgarian Men's Beach volleyball Team Championship and in 1999 after winning the premier National tournament in Burgas, Bulgaria, he and Evgeny received an invitation to represent Bulgaria in the U-23 Euro Championships in Greece. Danko couldn't attend and had to put the pursuit of his Beach volleyball dream on hold while attending Rutgers and competing indoors.
Danko met his wife Kristen while at Rutgers and they moved to her native California. Danko started playing beach volleyball there in 2005. He calls Huntington Beach his "home" beach, where he trains with many of the elite AVP players. In the past 7 years Danko has maintained the highest "AAA" CBVA rating and won the Cal Cup Tournament in 2009 with Tomo Sakugawa. He has been in the top 100 of the AVP consistently and finished the current 2013 season ranked in the top 50.
Danko has over 20 years of volleyball experience at the highest level. He understands the transition from indoor to beach and back to indoor. As a coach he believes that working hard on the fundamentals in a fun and competitive environment is of the greatest importance for players of all ages. He teaches by both explaining and performing and believes in positive reinforcement. Strategy is a big part of the game and teaching players about it can make them successful at the next level.
Personal: Parents are Mariana Yakimova and Todor Yordanov who were both professional athletes. Mom was a rhythmic gymnast and dad a soccer player. Has one brother – Bogdan. Danko is married to Kristen Endow.