It's been a couple months since my last post and during that time the few of us that got together to play a couple times a week were blessed with mostly nice weather. 65-70 in December at Huntington Beach is nothing to complain about. The last couple weeks have been even nicer and at 80′ it definitely feels like summer.
The players started coming out of their brief hibernation and lately it's a common view to see about 20 guys practicing at the famous South Side of the Pier. Some notable appearances by Casey Patterson, Ty Tramblie, Ryan Mariano, Russ, the baseball/volleyball giants Ryan Doherty (Avatar) and Ben Diggins and a new addition from the East – Andrei Belov. Other honorable mentions are Gary – the mayor, Nate dog, the experienced Texas Dan, Braustein – the crafty, Corey – one of the best practice players around and last but not least Mike Nelson – the Snow leopard. Rich an Niño round up the group as well.
Everybody looks a bit rusty but that's normal for this time of the year.
The trendy drill of lately is "doghouse" where 3 or 4 teams can compete on one court as the goal is to stay as long as possible in the "doghouse" an you have to sideout a serve and 2 freeballs in a row to accomplish that. There can be a discussion of the term "freeball" since teams use it strategically to prevent the other teams from scoring. Sometimes these tosses are so quick and accurate that they are almost impossible to save. Today a few of this variety heated up the guys and short but high octane arguments arose. Nothing big though, we are buddies:).
Today I teamed up with Brauny. He is always fun to play with as he is crafty, very consistent and an excellent setter. I had to play left side but since 2011 my left side sideout game has improved a lot and I believe I can actually see the court better when attacking from the left. One of the only drawbacks for me playing left is my left-handedness. It is more difficult to hit on 2 with the left hand from there. Lately and today I have been attempting to hit on 2 with my right and surprisingly it works:).
I have also been working out in the gym a bit, and this week I stressed on leg strength – squats and wall sits. I shouldn't be surprised but I am since I felt much better today on the court as a result of the leg workouts. I felt I was jumping higher and that resulted in pretty decent offense and some nice blocks (sorry Corey and Nate:).
We started our drills with 4 teams but at some point in the last game there were 3 left and the drill became more physically challenging (less rest time). I was definitely feeling it in my winter shape and probably looked like I was about to fall over but somehow Brauny and I gathered some final strength and ended up winning the last drill!
After the practice it's a tradition to jump in the ocean to cool off (that's an understatement – the water is freezing!) but I had to miss because I had to run to the office – the tax business/season doesn't wait and that's my day job.
I plan to be out again next Thursday. Let's hope the great California "winter" continues a bit longer!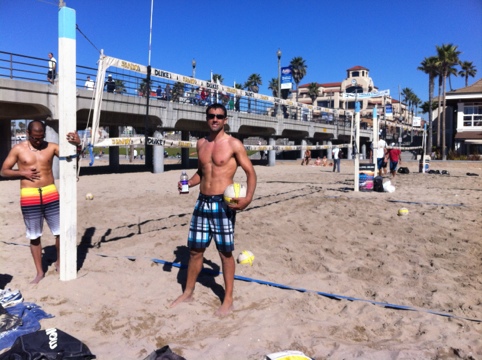 [sociable/]