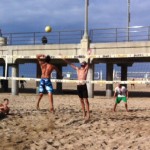 It was a lovely Thursday morning at Huntington Beach again. The beach was not as crowded as on a weekend but the familiar faces were there, taking advantage of the Holiday day off.
The off work day meant that Tomo (San) Sakugawa could play and we got in a few quality games against Mat Hilling and Ryan Doherty – arguably the tallest beach volleyball player in the US. He stands at 7ft. tall (213cm) and his nickname is quite appropriate – Avatar. This is a special team with Ryan's blocking and hitting and Mat's maturity beyond his years – he is only 18 and already making noise on the Beach tour. Tomo and I knew that the matches would be a challenge.
We started a bit slow and got beat the first set but picked up steam and with a few adjustments against Ryan's big block and aggressive serving we managed to be successful and won the match in 3! As usual Tomo was like a ninja in the back court and he dug some incredible balls, which I managed to set or kill on 2. I got lucky myself and blocked a couple of balls. Since it was a holiday Tomo and I decided to be nice and let the other guys win the last set for the day:)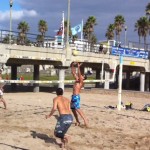 The weather was amazing again – at 9 it was about 65 and cloudy but by 10 it cleared up and warmed up even more and made for a great morning of volleyball at the beach!
[sociable/]