BVA 2015/2016
The club season is officially over. Kris sand I are a couple hours away from landing at LAX from the AAU's Nationals in Orlando. It feels like it was yesterday when we had our first team/parents meeting in December. Looking back on the 7 months that we spent together working hard (while having fun) mastering the game of volleyball, I can say that I am happy with our many achievements and I hope that the girls feel the same way! The group of girls got along really well all season long and became a Team. Their volleyball skills improved visibly, they faced increasingly tougher opponents and always managed to hang with them, they faced and overcame adversity, finished with a winning record and had many highlights along the way.
Team highlights
We wanted to have the best possible start of the season and entered the team into the strong LBSU New Year Tournament, where the teams are usually some of the best club teams, ex-college players and even a few PVL pro teams. We knew that with the little time we had to prepare we faced slim odds of winning. What we were looking for was a valuable learning experience and this is exactly what we got! The girls were extremely motivated to get better and we had a visible goal for our volleyball skills for the upcoming season. The results started coming right away – we did very well in the crucial qualifiers and make a big move up the rankings to set the tone for the entire season.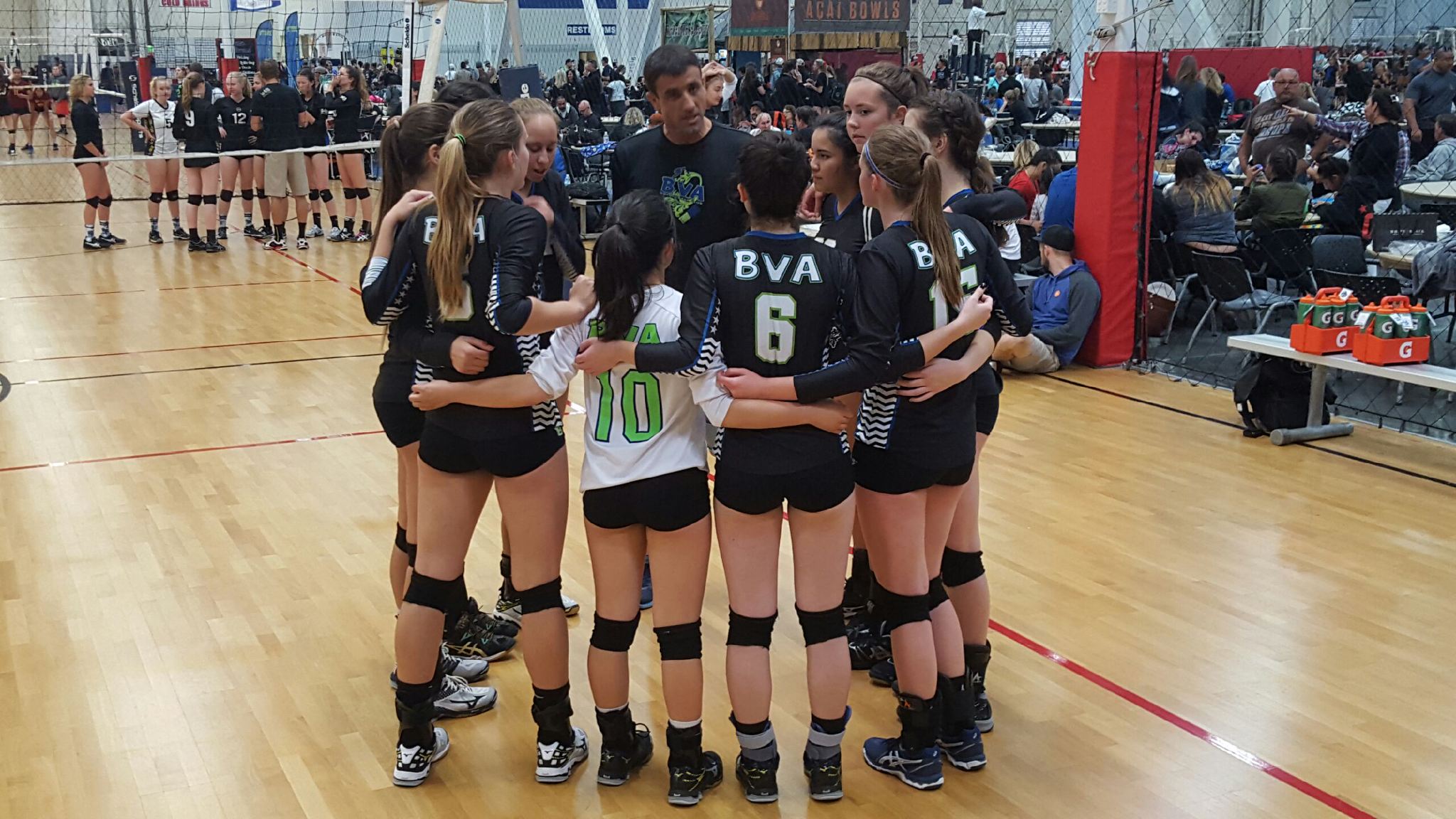 Las Vegas – another team highlight was our play in the last day of the annual tournament – the playoffs. In the semifinal match we faced a tough team from club Frostbite. We lost the first set badly and were down a couple points in the second. With our backs against the wall, everybody stepped up. We edged them in the second and in the decisive third set both teams battled hard until the last few points where we pulled away and got the win! It looked as if the girls just refused to surrender and this attitude allowed them to make some amazing plays in the end! The final match was a breeze and we won the bracket.
The L.A. JO qualifier was another highlight.  We faced adversity with a couple players missing on different days and we had others step up and fill in different roles, as the team needed it. Tessa and Becca played all-around and Lily stepped in successfully in the middle. We played consistently in every single match, which was great to see and especially on the last day in the playoffs where we faced three strong teams. In the first match vs. club Assist we were in control for the most part but had to dig in deep and thwart their comeback effort and secure the win in 2 sets. Then we played a team from Washington. They were good but we were better on that day. We showed mental toughness in winning a close second set 26:24, which also won the match. The last match as expected proved to be the toughest vs a tough AZ team, which just outlasted our CA neighbors from Golden West in the semi's. We were determined for revenge. It was the 9th match in a 3 day span and we knew that we would be tested physically and needed to stay focused and dig deep despite fatigue setting in. Everyone pushed hard with Mikelle and Victoria stepping up, Julia getting some big blocks, Bethany working hard on the block and finding the floor in offense, Becca and Tessa going all around and Becca assuming a bigger leadership role, Stephanie showing maturity and consistency in the back row and Lily working hard and staying focused and consistent. The battle was close but we came up victorious with a 15:13 win in the third!

For the end of the season we were excited to attend the AAU Nationals in Orlando, FL, which is the world's largest volleyball tournament as designated by the Guinness Book of World Records with over 20,000 participants in the different age groups and divisions! We again played good volleyball and were fortunate to play 5 of the top 10 teams in the span of the tournament! We hung tough with them and even pushed the eventual finalist to the brink and took a set off them! We grew a lot from playing great opponents and one of them was a very physical team from Georgia. We played them on the first day and despite a great start we couldn't find an answer to their big hitters. We faced them again on the third day and with a couple adjustments and a lot of focus and determination the girls played near flawless volleyball, neutralized their big hitters and won comfortably in 2! It was also nice to see college coaches talking to our players and offering them scholarships!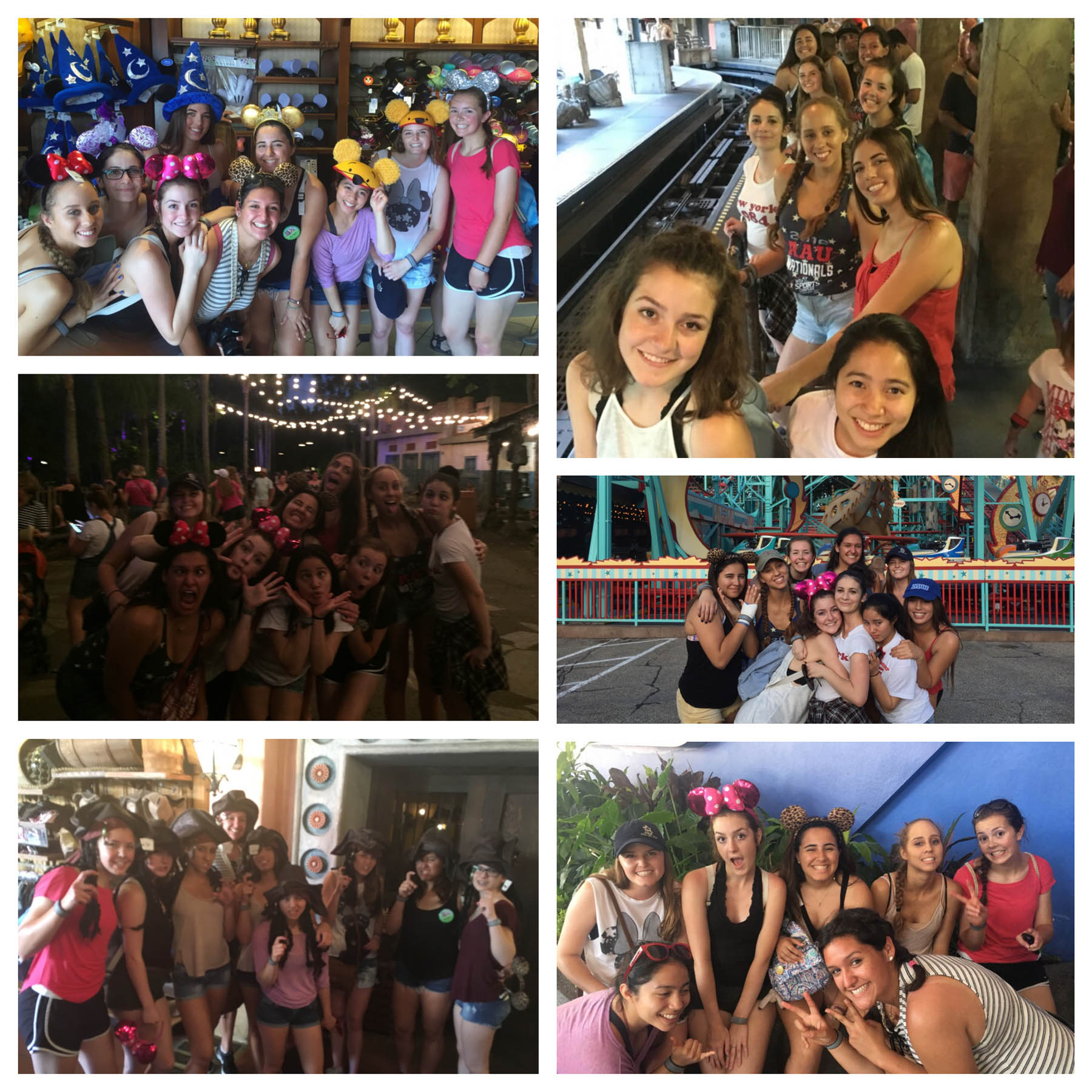 In conclusion we finished the season in the silver division, much higher than we started. We beat teams from the top of silver along the way and competed with the bottom of gold. I believe that with the talented core of girls we have and a couple strong additions we will set our sights on gold for next season!
Individual highlights (in numerical order)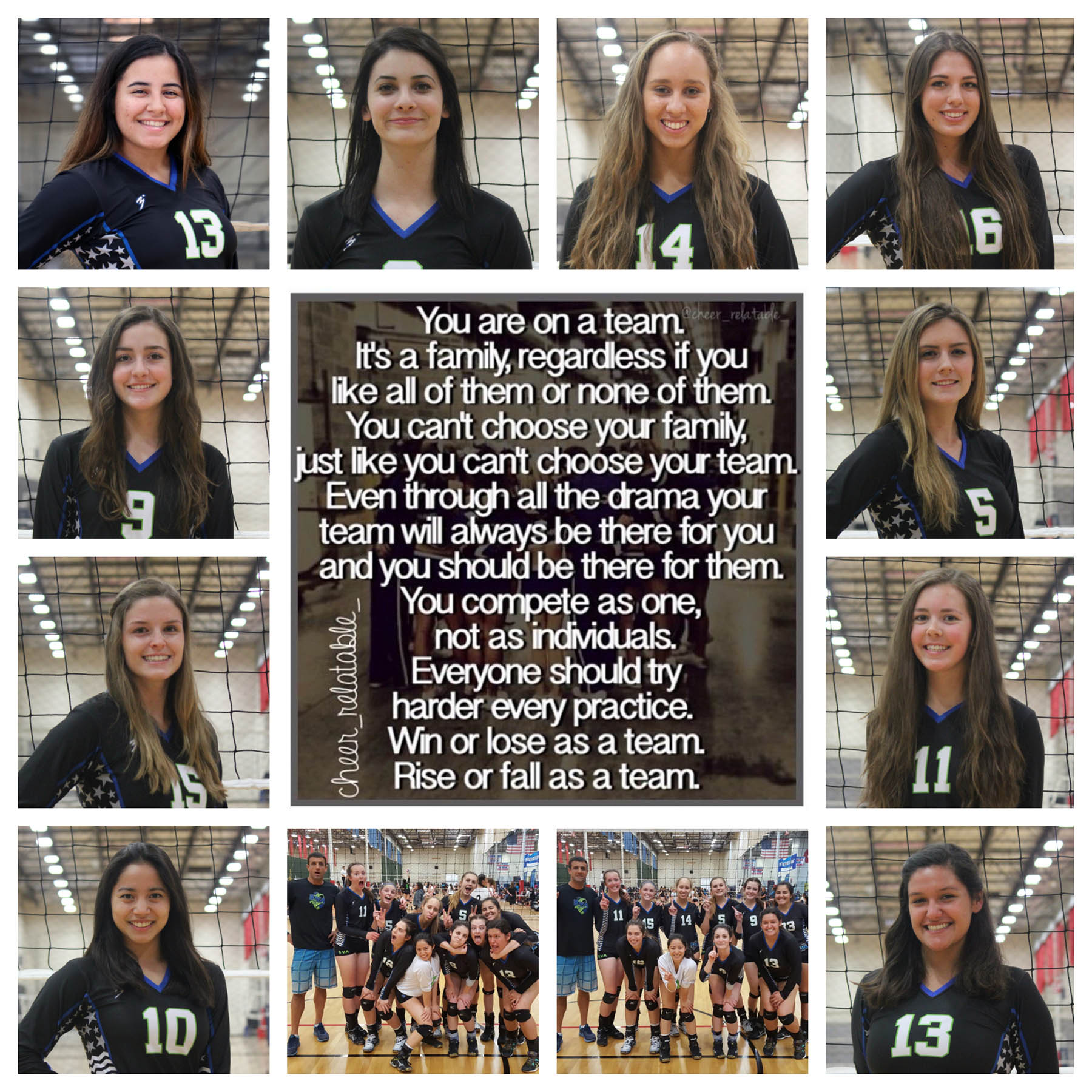 #5 Victoria Koos – Victoria made an impact the second she came in the gym. She is athletic and it doesn't hurt that she is a very nice girl with a great sense of humor who gets along with everybody and is competitive. Her serving developed into a big weapon, she covers a lot of court in defense and her hitting accuracy and velocity improved with one of her best hitting performances in the last mandatory tournament of the season. As for a specific highlight – during our semifinal in the last day in Vegas we fought back from a set down and were in a close battle in the third set when the opponents scored a couple points to put them ahead late. Victoria (in her third day of playing in a row) decided to take over in defense! The next thing I see is her flying from the end-line in middle back to pick up a tip 8′ from the net! We scored the point, the team was energized and a few points later we won the match!
#6 Tessa Sestito – I had a chance to work with Tessa briefly last year – she came in a moment of need and helped my then team win a couple big matches when my setter Haylie went down with an injury. Tessa showed heart and skill and I knew she would be a great fit for this year's team. I was not disappointed. Tessa worked hard, she was a leader and a captain on and off the court and helped our other younger setter Becca get better. Her back row defense improved a lot and she dug numerous rockets coming her way when we blocked angle as a team. She is going off to college to play in Massachusetts and I am sure that she will have a successful career there and I will follow and cheer her on.
#9 Amanda Dunnuck – Amanda is a very sweet girl, liked by all and she is one of our middles. At 5'10" she is not the tallest but she is quick, jumps well and she is never afraid to go against opponents much taller that her, blocking them and hitting past them. In the end of March and beginning of April Amanda was our fastest improving player. She was turning into a force at the net. Unfortunately she was slowed down by an illness and now she is on her way back to full recovery! We were all happy that she came back and helped the team at the AAU's in Florida.
#10 Stephanie Huerta – Stephanie is our libero. She impressed me during tryouts when I was serving her and trying to ace her… But I couldn't!
Later on she established herself as one of the team's emotional leaders. Her serving is lethal (in one of our tournaments she had 33 serves with 11 aces and only 1 error!) She is fast in defense and her high energy is infectious! She has the ability to come in and turn the team around and this is exactly what she did in our second Scva qualifier – she came off the bench in set 3 when we were down in a must win situation. She brought a lot of energy, turned the game around and helped us win the match and the pool.
#11 Bethany Laue – Bethany is a great girl on and off the court. She shows maturity beyond her years and is definitely an example to follow. I worked with her briefly last year when she was on 16's and she was one of the first girls who I invited to join the team. She is a middle but has the skill to play opposite too. She is a hard worker and it shows – her blocking improved a lot – she is getting used to defending against faster and stronger offenses and is starting to turn into a blocking machine. Her hitting is getting stronger and her serving has also improved. She loves to play back row and cherishes every opportunity she gets. Bethany has a lot of potential and she will continue to grow as a player as long as she continues to work hard. Bethany's best games were in Florida against the toughest competition we faced to date but a highlight is her blocking in the first match of the last mandatory tournament where we completely outplayed and shut down a skilled and fast opponent.
#13 Julia Rudy – Julia is our most improved player for he season. She plays middle and opposite, wherever the team needs her the most. She brings a lot of positive energy to the team and her laughter is contagious. She is physically strong and puts up a solid block that can stop even the hardest hitters. Her celebration after a block lifts up our entire team (and coaches)! A highlight for her was the last day of the LA qualifier where she helped us beat strong teams from WA and AZ on the way to winning our bracket.
#14 Mikelle Taylor – Mikelle is one of our outsides and a captain. She is very physically gifted and I have no doubt that she will join the "10-feet" club very soon. Her leadership skills improved throughout the season and she became a true backbone of the team with solid serving, serve-receive, hitting and blocking. Mikelle especially stepped up when our other outside was not at 100%. She is going off to college and our next outside will have big shoes to fill.
#15 – Rebecca Nelson. Becca is one of our setters and she improved a lot this season. Her confidence is as high as her skills, her sets are smooth and consistent, jump-setting in the middle is routine and her serving is tough. She is showing leadership skills and it's great to see.
#16 Lily Reissmueller – Lily is a great girl with a sharp mind and she is a good teammate. She is one of our opposites. When the team needed it, she stepped in as a middle and she did well against a tough opponent! Her hitting efficiency improved as did her blocking and defense at the net. She is going off to college and I wish her the best!
#33 Jasmine Gonzalez – Jasmine came in as an outside hitter for only the last mandatory and AAU's but by Florida one would have thought that she had been with the team the whole season! She is very nice and easy-going. The girls accepted her right away and she fit in nicely. She brought in great volleyball skills with her solid passing, strong arm and leadership skills. I am glad that she was a part of the team!
#28 Steena Hubbard – I had the pleasure to work with Steena towards the end of the season. She is an outside hitter and a hard worker. She showed versatility playing more than one position (outside and opposite) to help the team. She has a lot of potential and if she continues to give 100% in practice, the future will be bright!